HOMEMADE SAUSAGE
This is a nice sausage made with the sage and rosemary that needed to be cut back for the winter - increase amounts of herbs as you like. Make extra and freeze - perfect for stuffings and terrines and all manner of autumnal cooking.
The ingredients:
Several branches of fresh sage - cut and allowed to dry at room temperature for a day or two. Sage that has been touched by a frost - abundant at Thanksgiving time - is almost perfect.
Several branches of fresh rosemary
2 pounds, or so, fresh pork (boneless chops with some fat are fine)
10 cloves, or more, of garlic, mashed and chopped
large pinch of allspice
Freshly ground black pepper, 1/2 teaspoon, or to taste
Salt, about a tablespoon, or to taste
1/4 cup, or so, cognac
Preparation (< 20 min):

Put the pork through the medium blade of a meat grinder.
Remove any thick woody stems from the sage and rosemary and finely grind the leaves, and tender stems, in a spice mill or coffee grinder.
In a large bowl, combine the pork, ground sage and rosemary, salt, ground black pepper, allspice, and garlic. Mix well. Add the cognac so that the mixture is moist but not wet.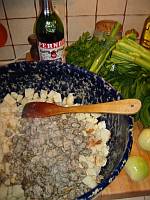 Sauté a small spoonful and taste for seasoning, adding more to the mixture as needed.

Allow to sit covered for one day refrigerated to allow flavors to blend. Freeze in convenient sized packs for future use.
Perfect for turkey stuffing: sauté and break sausage into small chunks while cooking and add to your favorite stuffing recipe that calls for sausage.