BOB'S™ "OYSTER ROCKEFELLER" STUFFING
A number of years ago I was called upon to help prepare a Thanksgiving feast. In addition to barbequed turkey, the hostess, whom we'll call "Dean", wanted Oysters Rockefeller as a first course. A bit over the top, I thought, with all the rich food that will would follow. But then – Eureka ! – why not put the oysters, Rockefeller style, inside of the turkey? A problem with many varieties of turkey stuffing (including most oyster stuffings) anyway is that they are much the same brownish color as the turkey itself. The deep-green color of the Oysters Rockefeller should look and taste lovely. I wasn't certain that the anise taste would complement the turkey, but indeed it did and it turned out to be a big hit. Subsequent years brought the inevitable modifications, including addition of fennel to further enrich the licoricelike flavors.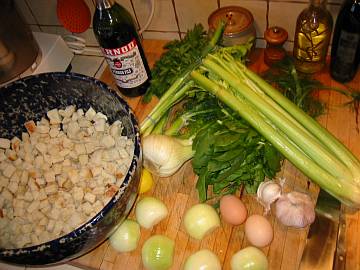 The ingredients:
About 10 cups homemade bread cubes (from stale French or sourdough bread, crusts removed)
1 pound spinach (washed and stems removed; baby spinach is preferred)
2 bulbs of fennel with some of the stems, chopped
2 cups chopped onion
3-4 ribs celery, chopped
5-6 scallions, white and tender green parts, chopped
1 large bunch parsley, finely chopped
10-12 cloves garlic, chopped
2 pints shucked oysters with liquid*
2 eggs
1 cup, or so, of homemade turkey stock (canned chicken stock can substitute)
1 tablespoon Worcestershire sauce
Tabasco® sauce, to taste
Salt, to taste
Black pepper, to taste
Transfer the bread cubes to a very large mixing bowl.
Blanch the washed, and still wet, spinach in a microwave oven for about one minute at the highest setting. Squeeze out the excess liquid, coarsely chop and add to the bowl with the bread cubes.
Sauté the onion, fennel, and celery in batches, and add to the bowl, mixing well.
Add the chopped scallions, parsley, and garlic. Mix thoroughly.
Add the oysters with their liquor and the two eggs and mix. Add the Pernod, Worcestershire and Tabasco sauces, and salt and pepper - mixing thoroughly.
The stuffing should be moist, but not wet. Add turkey stock and/or a little more Pernod as needed.
Correct seasonings, if needed.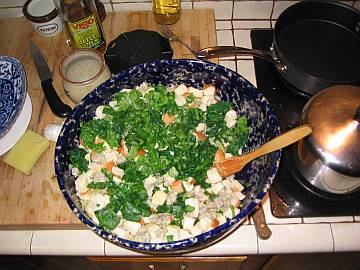 *Variation: If you're not keen on oysters, this stuffing lends itself surprisingly well to substituting sausage for the bivalves (though I must admit that "Sausage Rockefeller" doesn't sound immediately appealing). A recipe for homemade sausage is available. It is also super without additional meat.