ANCHO SWEET-POTATO PURÉE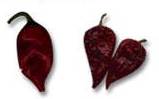 Ancho chiles, literally "wide" chiles, are the dried form of poblano peppers. They measure about 10 cm long and 4 cm wide. A deep brown color, ancho chiles will turn a brick red after soaking; they vary in hotness from mild to moderate, and have a slightly bittersweet taste.
They add the needed pizzazz to the sweet potatoes as well as enhancing the color to a rich orange-red.
The ingredients:
5 pounds sweet potatoes (about 6 large)
3 or 4 dried ancho chiles (about 1½ ounces)
1 cup light cream
2 teaspoons salt, or to taste
2 to 4 tablespoons unsalted butter
Preheat oven to 450°F and line a baking sheet with foil.
Prick the sweet potatoes in several places with a fork and bake on the baking sheet in the middle of oven until tender, about 1 hour. Cool potatoes until they can be handled.
While the potatoes are baking, stem and seed the dried chiles. In a small saucepan, bring chiles and cream to a boil, then let sit, covered, for about a half hour. Break open the chiles and, using a soup spoon, scrape out the inside flesh which should have puffed up and become a nice red color. Note: Be certain to discard the tough outer skin of the chiles, then purée the red chile flesh with the cream until smooth using a hand held blender.
Scoop the flesh from potatoes into a sauce pan, discarding skins, and mash with a potato masher. Then purée with the cream-chile mixture, salt, and butter using a mixer. Add more cream and butter if needed.
Purée may be made up to this point one day ahead, refigerated.
Adapted from Gourmet (November 1998)