Founded by Dutch fur trappers in the early seventeenth century, ALBANY made its money by controlling trade along the Erie Canal, and its reputation by being capital of the state. It's not an unpleasant town, just rather boring, with its contemporary character almost exclusively shaped by political and bureaucratic affairs, though there are a few livelier areas on the fringes.
A good place to start a tour is the Quackenbush House, the city's oldest building, built along the river in 1736 and now serving as part of the Albany Urban Culture Park. The modern visitor center next door at Broadway and Clinton (daily 10am–4pm; tel 518.434-6311) has free maps and occasionally leads guided tours of the downtown area, where there are a number of revolutionary-era homes. It also has engaging displays tracing Albany's history, with a special emphasis on the impact of the Erie Canal, and maps detailing driving tours of the surrounding area, taking in a still-functioning set of locks from the original canal along with the impressive industrial legacy of Troy, across the Hudson via I-787 N.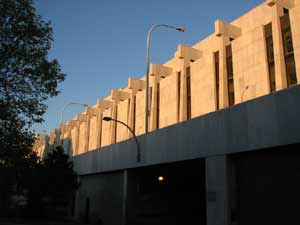 Uphill from the waterfront, piercing like an arrowhead into downtown Albany, Nelson A Rockefeller's Empire State Plaza went up in the 1960s and 1970s, replacing 98 acres of nineteenth-century buildings (and displacing hundreds of Albanian families) with a complex that includes a subterranean retail arcade lined with impressive modern art. The view from the Corning Tower 42nd floor observation deck (Mon–Fri 9am–3.45pm, Sat & Sun 10am–3.45pm; free) seems designed to make you feel like the conqueror of an invaded territory, looking out beyond the twisting Hudson to the Adirondack foothills, the Catskills and the Massachusetts Berkshires. It also peers down on the neighboring Performing Arts Center, known locally as "The Egg" – which adds the only curves to the Plaza's harsh angularity (call 518.473-1845 for performance information).
The New York State Museum (daily 10am–5pm; free; tel 518.474-5877), one level down at the south end of the plaza, reveals everything you could want to know about New York State in imaginative if static tableaux. The excellent section on New York City is better than anything in Manhattan itself, with histories of immigration and skyscraper construction, storefronts and trolley cars, and the original set of Sesame Street.
The most engaging part of Albany is the few blocks west of the plaza, stretching between Washington and Madison avenues to the open green spaces of Washington Park, laid out by Frederick Law Olmsted. The Albany Institute of History and Art, 125 Washington Ave (Wed–Sun noon–5pm; $3, free Wed; tel 518.463-4478), has a good range of Hudson River School paintings, and the neighborhood is full of the same sort of nineteenth-century brick-built homes Rockefeller had pulled down.
Back to Albany Resources